Elder Helen M. McNeil Educational Fund
In honor of Elder Helen M. McNeil, we established the Elder Helen M. McNeil Educational Fund for the underprivileged and students.
Elder McNeil had a lifelong love of learning and a passion for teaching. In honor of her life's work, we are dedicating this fund to continue her legacy of educational excellence.
Please support this mission by making a donation to HeartVisionChurch.org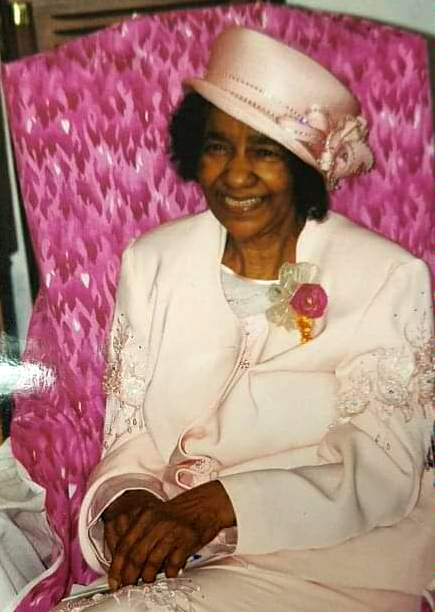 "To love is nothing. To be loved is something. But to love and be loved, that's everything."
A life well lived ~ "I can do all Things through Christ Who strengthens me" Philippians 4:13

Share your thoughts and memories of Elder McNeil
16 entries.
Rochelle, our thoughts and prayers are with you and your entire family. We are so blessed to have had the opportunity to meet your my mom and experience her kind spirit. Please know that she is in good hands and will watch over you each day. Warmest Regards, Quin/Tony/Landon Watson
Dearest Pastor Rochelle. Please know that our hearts and prayers are with you as you walk through this season of grief and loss. Your Mom gave you her greatest gift -- Her sure knowing and love for Jesus Christ, her Savior and the Lord of her Life. Because of her dedicated life to Him, she is now rejoicing in His Holy Presence in His Heavenly Kingdom . I pray that you shall be able to focus on the good memories that you shared with your Mom. These memories of her will help to lift your spirits. It almost goes without saying, and I am certain that you know this -- those of us, who shall remain faithful to and continue to trust in our Savior and Lord, shall be with her again in the Heavenly realm. Hold onto and rejoice in this. Our Ministry is sending a donation to the "Elder Helen M. McNeil Educational Fund" in honor of her loving kindness, hard works, and memory. Many Blessings and Love to you and your family always ... Sincerely, Rev. Dr. Carolyn V. Hodge, Pastor and Founder I AM The Living Word Ministries, Incorporated
We are so heart broken to hear about the loss of your Mother. We are praying that God will comfort you and your family through this time of breavement. Melvenia Daniels and Family
Soror Rochelle, I am thinking of, fervently praying for and sending sincere condolences to you and your family. I love you dearly and truly. Angela Imes
June and Willie I met Mrs. McNeil when I came to New Jersey for your wedding. She was sweet,wonderful, and the best host ever. That is the way that I will remember her forever.💚💕
Dear Soror Rochelle, May God comfort you and your family at this time. May you be blessed knowing you were able to care for her until the Lord called her home. Your strength is admired. Gods peace and blessing upon you dear Soror. Soror Jamilla Gault💚💗💚💗
Sending my deepest condolences on the loss of your loved one. Praying for the entire family.
To Rochelle and family, our thoughts are with you in the loss of Mother McNeil. I am grateful that I had an opportunity to sit with her from time to time when visiting. She will be missed, and although we mourn and feel a tremendous loss, Heaven has gained a powerful women of God - AMEN! Arnold, Alexander and I are praying for your family always. We love you!. With Sisterly Love, Robin Harvey
To my darling twin brother Willie and my amazing sister-in-love Rochelle; Words seem so inadequate in this moment to express the love and admiration I feel for Grandma Helen. We always had the most fun together in laughter, and she was truly the example of a Godly woman that we all need. She has without any doubt entered her season of "well done" wearing her beautiful Crown of Life. Blessings and Prayers to you both, and to Conner, Willie IV, Vince, Charnelle, and all the family, and know that the love she felt for each of you will never die. Love and Peace, Cissy
So glad we got to meet her and experience her love of God. Thinking of you and praying for you all during this time. We love you!!
We are so sorry to hear this Rochelle. You all loved and cared for her so well. Our love and prayers are with you! Brad and Mary Ward
To Rochelle & Family I am so sorry for your loss. I can't even begin to tell you how much your mother meant to me. From all of her spiritual guidance, her being my bible teacher, and even helping me with my wedding. I will never forget the times when she tried to give me some of her ensure drinks, saying I was too tiny. Her and my mom were friends on earth and now they are together in heaven. My prayers are with you and your family.
Dear McIntosh and McNeil families, I will miss your sweet mother's earthly presence but will always remember her unfailing ability to remember lengthy passages of scripture in Bible study. She was always a true lady with a gracious presence and heartfelt application of God's word. I pray that her passing was peace-filled and that you all have many warm memories to cherish in the days and years ahead. God bless you and keep you, Cindy & Rock Roberts
Dear Rochelle McIntosh, Offering my deepest condolences during your time of bereavement regarding your dear mother and loved one to your entire family, Elder Helen McNeil. May her fond memories keep you comforted in the many days to come. - Sincere Sisterly Regards, AKA Sorority Member Lena Hickman-Miott, Psi Rho Omega Chapter.
Sincere condolences to my Blessed family, as another angel ascends into Heaven. A true and faithful servant, who loved the Lord with all her heart. Your reward is our comfort, as we grieve and miss you here. Rochelle and the entire family of loved ones, we pray for your peace and extend our heartfelt sympathies.
My Chain is BROKEN!!! 😭😭😭 I am really going to miss my auntie.....This is a heavy blow for me. 😭😭😭 She was everything to me. Everyone I'm connected with know that I have such a great LOVE for you. Every year, I made sure we celebrated our birthday's together. You were a woman filled with great WISDOM, and I didn't mind hearing it over and over because it taught me how to act like a lady and how to have a relationship with God. Auntie, I will never forget the stories you shared with me of your childhood and your preaching. Your favorite niece/daughter is going to miss you deeply. I can't be selfish wanting you to stay. God had other plans. You are now my angel to help me find my way. RIP AUNTIE UNTIL WE MEET AGAIN!!! You will never be forgotten!!! Love your daughter #2 Charnell